SGWS Wynwood operates as Southern Glazer's Wine & Spirits' (SGWS) showcase facility for hospitality and education, serving the needs of customers and suppliers while connecting the Company to the art, creativity and diversity of the local community.
Southern Glazer's Wine & Spirits is the world's preeminent distributor of beverage alcohol and proud to be a multi-generational family-owned company headquartered in Miami, Florida.  The state-of-the-art, 17,000 square-foot center offers industry-leading beverage education programming and is home to the Company's Artisanal Fine Wine & Spirits Division, Communications & Corporate Social Responsibility and Special Events teams, and a Direct Warehouse Store location. The versatile, modern-industrial venue is also available as a private event and meeting space, with full-service catering provided exclusively by Constellation Culinary Group.
With the opening of SGWS Wynwood, Southern Glazer's unmatched portfolio of the world's most well-known wine and spirits brands and industry-leading wine and spirits educators are now more accessible than ever. From educational tastings for the trade, to private events and curated experiences, we intend to bring the spirit of hospitality to life in Wynwood.
EXPLORE WYNWOOD
After significant investment and revitalization, Wynwood has become recognized globally as a premier destination for art, fashion, innovation and creative enterprise. Known for its wildly eclectic open-air street art installations, the neighborhood serves as a perfect backdrop to explore art galleries, shop at unique boutique retail stores, as well as drink and dine at some of the coolest bars and restaurants in Miami.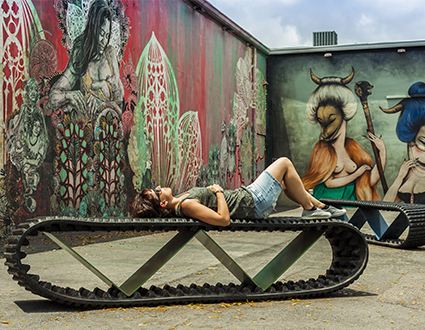 Visitors looking for the ultimate "Instagrammable" photo op will never run out of inspiration. Wynwood is home to the highest concentration of street art in the country, with muralists from around the world showcasing their talent on walls with larger-than-life masterpieces. The thriving art scene also includes many unique galleries and showrooms.
From trendy artisanal eateries to craft breweries and cocktail bars, Wynwood is a required stop for foodies looking for a unique tasting tour. The neighborhood is home to three James Beard-nominated chefs and restaurants and there's plenty to choose from whether you're on an intimate date night or out with the whole family.
Retail therapy takes on a new meaning in Wynwood. Shoppers will find no shortage of edgy brands and one-of-a-kind retailers offering everything from apparel and home goods to health and beauty wares. From high-end luxury to great deals and steals, buyers are sure to find everything they never knew they needed.